As we approach the end of what has been an unprecedented year—in almost every conceivable way, we are excited to report that the construction teams have been making amazing progress of the RMM circuit. While we have had the expected blasts of snow and cold temperatures that are typical in Alberta this time of year, thankfully the weather has cooperated enough to allow us to maintain construction schedules here into mid-November, and development crews will continue to push forward while the weather permits.
Since equipment first showed up on site at the end of August, an extraordinary amount of work has been completed in that relatively short amount of time. Early work on the project involved surrounding support road infrastructure and manipulating tonnes of earth. To date, a million tonnes of dirt has been moved in shaping the track, excavating storm ponds, and building berms.
All this has been made possible by highly committed crews working within an aggressive schedule. 24 hours per day during the week, and 12 hours per day on the weekend has resulted in identifiable track forms now beginning to take shape, even earlier than expected.
Detail of progress that has been achieved:
Most of the North main straight has been excavated – ranging from 1.0-2.5 metres cut.
Turns 9 through 10, and 12 through 13 are currently being excavated to provide fill material for the outside berms. These cuts range from 3.5 meters to 6.5 metres in depth.
The sound berms are being built up with fill and are taking shape. While designed for sound mitigation, they will add spectacular perspectives, making this truly a one-of-a-kind circuit.
Work on the underground utilities for track drainage has been underway for the past three weeks.
The main entry road at the front gates and RR10A have been paved.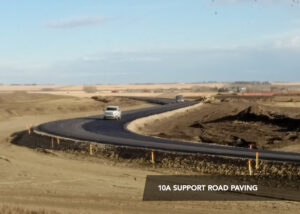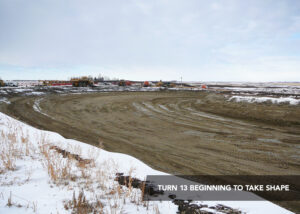 With construction moving quickly, individual membership levels are also continuing to sell. All membership levels are lifetime memberships and limited availability. RMM has also made a very limited number of corporate membership opportunities available. 
In addition, we are also continuing to acquire registrations for our track-side garages/car condos. Get more information and register here at the bottom of the page.
As we drive toward opening day in 2021, be sure to follow us for continued construction updates, images, and calendar announcements.
Don't miss an opportunity to be part of Alberta's premier motorsports development. Contact us to secure your membership today!